White Guy Says He's Actually Filipino Because He's Transracial
"Whenever I'm around the music, around the food, I feel like I'm in my own skin"
"Whenever I'm around the music, around the food, I feel like I'm in my own skin. I'd watch the History Channel sometimes for hours… nothing else intrigued me more but things about Filipino culture." These are the words of Ja Du, a white man named who claims he's actually not white, but rather Filipino. 
Ja Du says he's "transracial," a term that was originally meant for parents who adopt a baby that is of a different ethnicity than their own. Ja Du—born a white man named Adam—subscribes to an updated, nonsensical definition: Someone who was born as one race but identifies with another.
At the risk of sounding rude or insensitive, this seems like some crazy bullshit. You don't get to be born one ethnicity, fall in love with some foreign cuisine and thus claim that ethnicity. Simply put, when it comes to ethnicity, you're born what you're born.
This curious bit of insignificant news recalls another self-proclaimed "transracial" person, Rachel Dolezal, the former president of the Spokane, Wash., chapter of the NAACP. Dolezal made headlines in 2015, when an episode of Dr. Phil's surprisingly still-around TV show revealed that she's been a fraud for a significant portion of her life. Rachel, born a white woman, was going through some painstaking efforts to give off the impression that she's black. Of course, Donald Glover poked fun at that situation in an extended gag on the first season of his show, Atlanta: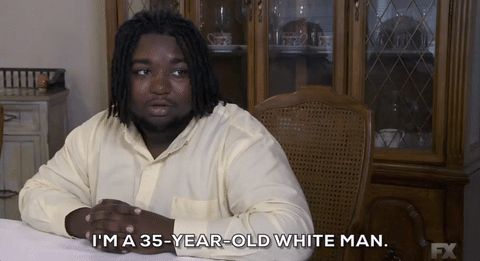 Not everyone however agrees that Ja Du is out of pocket.
Tampa news outlet WTSP spoke with psychologist Dr. Stacey Scheckner about Ja Du and his desire to change his ethnicity. "If someone feels that they feel at home with a certain religion, a certain race, a certain culture, I think that if that's who they really feel inside life is about finding out who you are," Scheckner said. "The more knowledge you have of yourself, the happier you can be." 
Ja Du drives around Tampa in his purple Tuk Tuk, a three-wheeled style of car used in Asia for public transit, which is kind of cool, I guess. He says he doesn't think that he's appropriating any culture. "I believe people will [take advantage] just like other people have taken advantage of their identity to get their way, but the difference between me and them is that I don't want that," he told WTSP. "I think that we all have the freedoms to pursue happiness in our own ways."
But let's ponder something else: Imagine how negatively we'd (rightfully) react to news about a white person who just loved everything about Kenya, from the Ugali (food) to the Mwomboko (traditional dance) and all of the other wonderful cultural beauties that the small, African nation possesses. 
What would we say to that person if we saw them riding around Chicago, on the back of a damn camel, rocking a Maasai blanket, insisting that they were not white, but actually Kenyan, because they liked Kenyan music and food?