The Impending Empire of Artist Meaghan Garvey
Meaghan Garvey has already accomplished what an overwhelming majority of her peers never will. At the tender age of 25, she's determined how to turn a modest profit from her longstanding passions. The Oak Park, Illinois native has drawn inspiration from rap music and comic illustration to produce a growing inventory of absurdly unique novelties. Her stockpile of niche merchandise (ranging from Riff Raff fortune cookie sticker prints to skullcaps with "BEYONCE" embroidered across the forehead) can be purchased exclusively through Etsy, a social commerce website that provides a platform for independent artists to peddle their esoteric wares.
Much of the charm in Meaghan's products lie in the personal and rarefied nature of her artistry. The most intimate item in her shallow online catalog is a 31-page illustrated homage to "Juicy,"the breakout single from Notorious B.I.G.'s storied debut album. The cover art is genius in its simplicity. A vibrant scan of a rainbow frayed Coogi sweater originally worn by Meaghan's own father blankets the hand-bound booklet. Therein, each page features a black and white sketch that captures a single frame of Biggie's legendary ascent from sardines to champagne.
"My Dad is a fat white dude," she explains. "But he had so many Coogi sweaters when I was growing up. I think my mom bought them every Christmas. One day I was helping him clean out his house and I found them in the back of his closet." Despite her father amassing a plethora of designer garb over the years, Meaghan insists her own fandom was the primary driving force behind the book. "First of all, it's one of the greatest rap songs ever made,"  she contends. "It's just one of those songs that's so recognizable, even to people that don't listen to a ton of rap music. Flipping through the pages you [find yourself reciting] it in your head. There's a lot of great imagery."
For those looking for an edgier read, Meaghan has authored a tongue-in-cheek pictorial brochure titled "Talking To The Holy Ghost In My Bugatti." The book plays off the popular notion that all prominent staples of the entertainment industry are beholden to the veiled influence of the dreaded art
Illuminati. In years past, rumors of illicit play fanned by gossip rags have forced Jay-Z to deploy damage control, and, oddly enough, his former label mate Rick Ross to embrace the malicious accusations. Its burly beige-colored pages document over a dozen blood sacrifices and bizarre ceremonies hosted at the secret society's undisclosed homestead. Initially skeptical of conspiracy theories, Meaghan grew to appreciate the hearsay. "I started to research it because I didn't really know what the Illuminati was," she says. "It's not that I started to believe it, but I just got so obsessed with it. It's such an awesome contemporary myth. It's just really fun to imagine that [celebrities] are actually in an elite secret society."
The fleeting windows of opportunity afforded by the immediacy of social networking has not been lost on the digital entrepreneur. When Def Jam recording artist, Gunplay, was arrested in early October by Miami-Dade County authorities due to outstanding warrants stemming from an alleged armed robbery, Meaghan promptly introduced a "FREE GUNPLAY" prayer candle before he was released to house arrest on $150,000 bond. Gunplay joins the ranks of Lil B, R. Kelly, and Ghostface Killah, among others, to be inducted into her posh line of customized glass votive holders. "I did the Gunplay [sketch] really fast," she says. "But a couple days later he was released. Maybe they work?"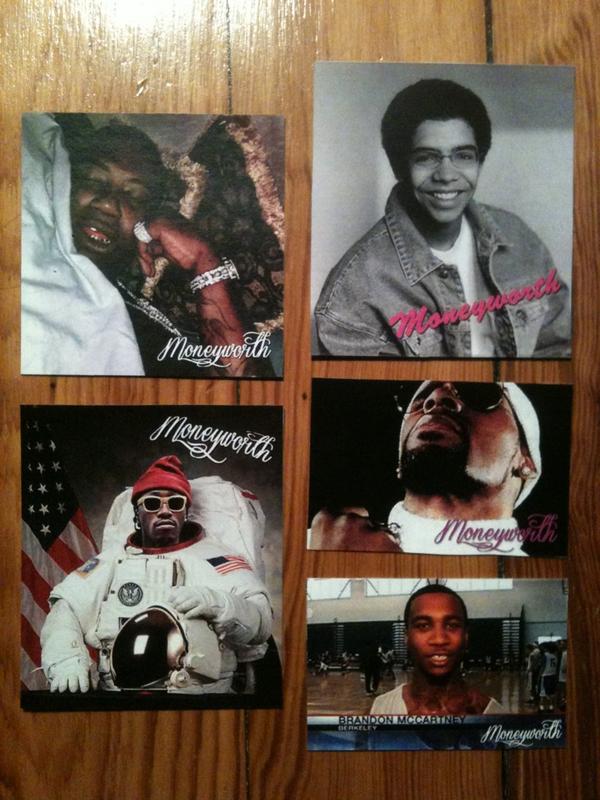 More recently, Meahgan has liberated a new set of stickers that resemble sports trading cards manufactured by Topps Company and Fleer Corporation back in their heyday. Each print is stamped with a delicate cursive font bearing her professional alias, "Money Worth," which she also used to brand herself on Twitter and Etsy. When asked of the origin of the redundant handle, she claimed it was simply a fortuitous selection. "When I was in high school I took this hip-hop dance class," she recalls. "It was me and a bunch of soccer moms. It was really corny, but the teacher was awesome. He called himself the Harlem Shake King of Chicago. He [supposedly] met Oprah. He would always say: 'You paid $39.99 for this class so you better get your money worth!' And it just stuck."
Always the astute businesswoman, Meaghan doesn't plan on hoking graphite prints depicting Drake's induction into the art Illuminati for the rest of her life. She has far more ambitious plans on the horizon. "I'm doing a book on Future because I'm obsessed with him," she flirts. "I looked up different meanings of Pluto, and I found out it's an alternate name for the Greek god Hades. I'm doing a book that combines Future and Greek mythology, basically."